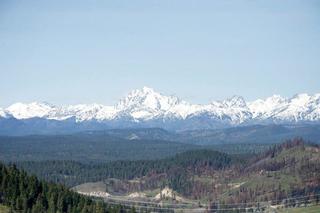 The Cle Elum-Roslyn School District, nestled in the foothills of the eastern slopes of the Cascade Mountain range, includes the communities of Cle Elum, South Cle Elum, Roslyn, Ronald, Liberty, and surrounding areas of Upper Kittitas County. Established originally as coal mining towns, Upper Kittitas County is now known as an outdoor enthusiast's paradise with access to mountains, lakes, scenic rivers, and miles of wilderness trails. Cle Elum-Roslyn is proud of its "classic small town" feel where our schools are highly regarded and our children grow up in a safe and supportive environment.
Comprised of four schools, our district encompasses roughly 600 square miles and serves nearly 900 students kindergarten through 12th grade.
Cle Elum-Roslyn Elementary

Walter Strom Middle School

Cle Elum-Roslyn High School

Swiftwater Learning Center
The Cle Elum-Roslyn community has high academic expectations for the school district and has supported its maintenance and operations levy, as well as its capital projects levy for $2 million dollars every three years. The capital projects levy is used to repair, expand and improve school facilities and grounds as well as address significant technology improvements and upgrades to improve student learning. Funds from the maintenance and operations levy go toward sustaining educational and student support programs.
Cle Elum-Roslyn offers education in an integrated setting. Special programs designed to meet the needs of students include special education, remedial reading, gifted and college in the high school, early childhood, English Language Learners, music and fine arts, career and technical education, athletics, activities, and clubs. Our alterative program works with students in a small classroom setting utilizing individual student learning plans.
Community and employees are very involved in the goal setting and strategic planning for the district. The Education Foundation for Cle Elum-Roslyn (EFCR) is dedicated to supporting and enhancing quality education for students in the Cle Elum-Roslyn School District. EFCR operates by generating financial and community support to enrich educational opportunities through its Grants and Award Programs for students. Our traditional schools each maintain active PAC (Parent Action Council) groups and provide many opportunities for community volunteers to share in the learning process with students. Other community organizations including Rotary, Kiwanis, Athletic Boosters, Suncadia HOA, and local businesses contribute to various student educational and activity programs.
"Partnering with our community to create the Future"